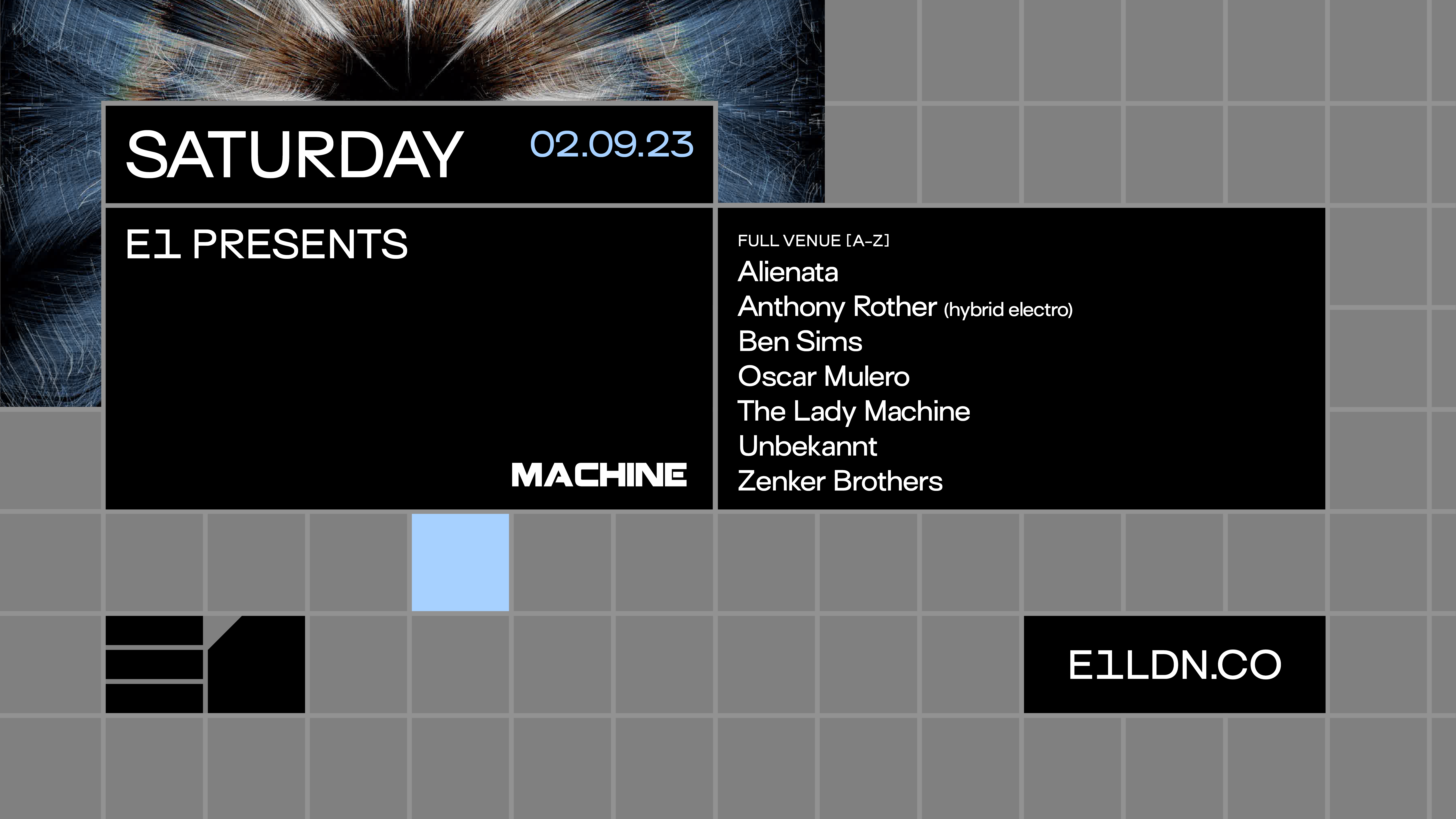 Machine: Oscar Mulero, Ben Sims, Zenker Brothers, Anthony Rother (hybrid electro)
Sat 2nd September 2023
21:00 -05:00
In the Warehouse, Oscar Mulero leads the MACHINE label showcase A legendary DJ who was a major influence for the Spanish electronic scene since the early 1990s and a leading exponent of underground techno the early-2000s. The PoleGroup Records and Warm UP head finally makes his triumphant debut.
The UK star Ben Sims returns to E1 after his sensational extended set back in 2022. Oh, how we have missed him in the Warehouse. He has dominated the scene for over 20 years and his distinctive sounds of tough funk and hard groove have made him a techno legend in his own right. The Lady Machine returns to E1 after her intimate set back in April which won the hearts of the Black Studio.
The Pornceptual resident is a pathfinder for the spirit of 21st century Techno and her underground lines of synths and textures will light up the dancefloor. Warming up the Warehouse is Unbekannt, a resident at the iconic Mantra Club in Genova. Unbekannt found his calling in Berlin performing in the iconic Sisyphos , Tresor and Suicide circus which fuelled his Detroit and Dub influenced techno, which has synergised into dark and hypnotic mixes and sounds.
In the Black Studio, the Zenker Brothers are back! The dynamic brotherly duo hailing from Munich, they have truly left their mark on the scene founding the Ilian Tape label in 2007 as well as releasing on the iconic Tresor labels and 50 Weapons. It's going to be an absolute treat to have them back at E1 after two years since their last performance.
Following on from that, Anthony Rother is an influential visionary and electro pioneer and one of electronic music's most prolific producers. A staple in the development of Germany's electronic music scene, he has co-produced with Sven Väth , DJ Hell and Karl Bartos from the iconic Kraftwerk. His "XOR-909"single featured on Skryptöm records iconic 15 year EP, so we are thrilled to have him perform a hybrid electro set just for us.
The Spanish born, Berlin-based Alienata is the sound obsessive who's DJ career began in 20004 and has blossomed into her becoming a mainstaz in Berlin, Germany and Europe, blessing the booths of Panorama Bar , ADE as well as tours across the US and Canada.